Ground Chicken Chili Recipe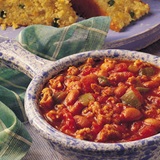 Ingredients:
1 pound Fresh Ground Chicken; 1 medium onion, chopped; 1/2 medium green bell pepper, chopped; 1 clove garlic, minced; 2 cans diced tomatoes and green chilies, 10-oz. each, undrained; 1 can pinto beans, 15-oz., undrained or 1 can dark red kidney beans , 15-oz., undrained; 1 can tomato sauce, 8-oz; 2 tablespoons chili powder; 1 teaspoon ground cumin; 1/2 teaspoon salt; 1/4 teaspoon red pepper flakes, crushed; add more or less, to taste
Cooking Instructions:
Combine chicken, onion, pepper and garlic in large saucepan; cook over medium-high, stirring frequently, 6 to 8 minutes or until chicken is no longer pink and pepper is tender.
Stir in remaining ingredients. Bring to a boil. Reduce heat. Simmer, uncovered, 25 to 30 minutes to blend flavors.
Sweet Potato Chicken Salad Recipe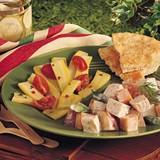 Ingredients:
3 cups Premium Chunk White Chicken Breast (12.5oz) , drained; 2 cups small red potatoes, cooked and cubed; 2 cups sweet potatoes, cooked, peeled and cubed; 1 pound fresh green beans, trimmed, cooked and drained; 1/2 cup mayonnaise; 1/2 cup nonfat plain yogurt; 2 tablespoons milk; 2 teaspoons dill weed; 1/2 teaspoon salt; 1/8 teaspoon pepper.
Cooking Instructions:
Combine chicken, potatoes and green beans in large bowl. To make dressing, combine mayonnaise, yogurt, milk, dill weed, salt and pepper in small bowl.
Pour dressing over chicken mixture; stir gently to coat evenly. To allow flavors to develop, cover salad and refrigerate at least 30 minutes before serving.
Cheesy Quinoa & Broccoli Chicken Casserole Recipe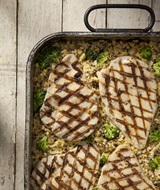 Ingredients:
4 chicken; 6 ounces quinoa; 1/2 onion, diced; 2 cloves garlic, chopped; 2 bunches broccoli florets; 10 ounces broccoli cheddar soup, 98% fat free; 3 ounces garlic and herb cheese spread; 3 cups fresh spinach; 3 tablespoons poppy seed dressing.
Cooking Instructions:
1. Preheat oven to 375°F.
2. Prepare quinoa according to package directions.
3. Spray a large skillet with non-stick cooking spray and over medium-high heat cook onions and garlic for 5-7 minutes, add broccoli and heat for an additional 5 minutes. Stir in soup and cheese spread and mix until well combined.
4. Mix vegetable cheese sauce with cooked quinoa and spread into a 9"x13" pan. Top with Grilled & Ready chicken breast fillets, cover and bake for 20 minutes. Uncover and continue to cook for an additional 20 minutes.
5. Toss spinach with dressing and serve with casserole.