Beef Barley Soup Recipe
Ingredients:
3 pounds beef cuts, cut 1-inch thick, 1 tablespoon vegetable oil, 1 medium onion, chopped, 1/2 cup carrot, chopped, 1/2 cup celery, chopped with leaves, 3 cloves garlic, minced, 1-1/2 teaspoons salt, 1-1/2 teaspoons dried thyme leaves, 1/2 teaspoon pepper, 1 bay leaf, 1/3 cup pearl barley, medium, 1 package frozen French-cut green beans, 9-oz.
Cooking Instructions:
Heat oil in large, deep pot over medium. Add onion, carrot, celery and garlic; cook and stir 5 minutes or until tender. Add beef, 5 cups water, salt, thyme, pepper and bay leaf; bring to a boil. Reduce heat; cover tightly and simmer 1 hour.
Remove beef. Cut beef from bones; cut beef into 3/4-inch pieces.
Skim fat from soup. Stir in beef and barley; continue cooking, covered, 50 to 60 minutes or until beef and barley are tender.
Add green beans; bring to a boil. Reduce heat; simmer 2 to 3 minutes or until beans are tender. Discard bay leaf.
Broccoli and Chicken Strata Recipe
Ingredients:
12 ounces grilled & ready fully cooked refrigerated grilled Chicken Breast strips; 2 cups broccoli florets, fresh; 5 cups French bread cubes; 1-1/2 cups cheddar cheese, shredded, divided; 2 cups skim milk; 1 teaspoon dry mustard; 4 eggs; 1/8 teaspoon black pepper
Cooking Instructions:
1. Cook broccoli in boiling water for 2 minutes. Drain well and pat dry with clean paper towels; set aside.
2. Layer half of the bread cubes in a greased 2-quart baking dish. Top with 1 cup of the cheese, Grilled & Ready Chicken Breast Strips, and broccoli. Top with the remaining bread cubes.
3. In a medium bowl whisk together milk, eggs, dry mustard, and pepper. Pour evenly over bread cubes. Cover and refrigerate for at least 2 hours or up to 24 hours.
4. Preheat oven to 325°F. Bake, uncovered, about 1-1/4 hours or until browned and the center is nearly set (there may still be some liquid egg in very center of dish). Sprinkle with remaining cheese. Let stand for 20 minutes before serving (egg mixture will continue to set during standing).
African Groundnut Chicken Stew Recipe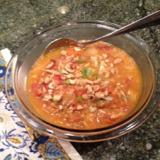 Ingredients:
12 ounces Zartech's Chicken Breast strips; 2 tablespoons olive oil; 1 medium sweet potato, diced into 1/2" cubes; 1 clove garlic, crushed; 1 yellow onion, diced; 1/4 teaspoon allspice; 2 tablespoons jalapeno peppers, deseeded, minced; 10 ounces fire-roasted diced tomatoes, undrained; 2 cups chicken broth; 2 tablespoons tomato paste; 2 tablespoons mango chutney; 1/3 cup creamy peanut butter; salt and pepper, to taste; 1/4 cup cilantro, chopped; 1/4 cup roasted peanuts, chopped.
Cooking Instructions:
1. Heat olive oil in a large soup pot over medium-high heat. Add the sweet potato, garlic, onion, allspice and jalapenos to the pot and cook for 7 minutes. Add Grilled & Ready chicken and cook until the chicken is heated through.
2. Add the tomatoes, broth, tomato paste, chutney and peanut butter to the pot and bring to a boil. Reduce heat to medium and simmer for 10 minutes. Season with salt and pepper as needed.
3. Serve topped with cilantro and peanuts sprinkled on top.